Brief History of Kentucky New Era, Inc.
The Kentucky New Era was established in 1869, and takes pride in being the longest operating business in Hopkinsville, KY. It is also the only surviving newspaper, outlasting a total of 45 different newspapers, published in the area since 1813.
With the wrath inflicted by the Civil War, it was a time of a new beginning, a 'New Era' in the Southern Pennyrile area of Kentucky. It was in the winter of 1869, two veteran confederate officers turned lawyers, John D. Morris and Asher Graham Caruth, first published the Weekly Kentucky New Era.
Although a daily edition under the same name plate started prior to the turn of the century, the weekly was continued until the early 1940's. In 1873, a fellow attorney, Hunter Wood, became a partner. By 1881, Wood had acquired full interest in the paper, starting the family journalism legacy that continues today with a sixth generation member working in a part-time position.
At Wood's death in 1920, the paper passed to his son, Alfred Walker Wood Sr., the first owner of the paper who was a full-time newspaperman. The next generation brought two sons, Walker and Tom, who would serve as co-publishers of the paper until Walker's death in 1965.
While the ownership remained in the family with the spouses and daughters at Tom's death in 1969, a non-family member, Robert C. Carter, assumed management of the company as president and publisher. Carter joined the paper in 1953 as an account representative. After nearly 30 years as publisher, he retired in 1997 and remained active as board chairman until November of 2003. A wood family member did not begin working for the paper until the mid 1970's, when a fifth generation family member and grandson of Tom took on a part-time position.
Taylor Wood Hayes joined the full time ranks in 1985 as an account representative and remains the only Hunter Wood descendant working full-time for the company. After nearly twenty years of working in every area of the newspaper, he was named publisher and CEO in October of 1997. Charles A. Henderson, who joined the company in 1975 as controller, was named President and General Manager in 1997.
In addition to five weeklies, the Fort Campbell Courier, the Princeton Times Leader, The Eagle Post, Dawson Springs Progress and Journal-Enterprise of Webster County, as well as a job printing company, Pacesetter Printing, the company started one of the first radio stations in the area and a low power television station that have since been sold. The company employees just over 100 individuals.
Local media outlet oldest business in town
(PDF version)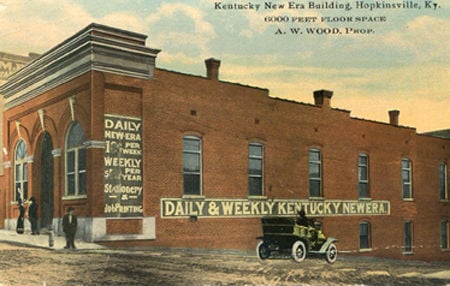 Hopkinsville, from 1813 until 2014 — strange as it may seem — has had no fewer than forty five newspapers, nine of which were African-American. Some of the more colorful names of these ghosts are ... The Spy, Green River Whig, The Kentucky Rifle, The Gimlet, The Hopkinsville Democrat, Hopkinsville Republican, Kentucky Monitor, The Little Courant and the Rising Sun.
The sun seems to have risen most often on the New Era, as it is the sole survivor. The first known newspaper here was the Western Eagle in 1813, established just 13 years after Hopkinsville had begun to come of age as a thriving town.
Types of Positions within the company:
Sales: Account executives are our revenue producing aspects of every segment of the company through face to face presentations and by way of telemarketing. Our products include advertising (print and broadcast), signage and printing. Qualifications include sheer determination, drive, creativity and the joy of establishing rapport with people. A reliable vehicle is a must for our outside sales positions as there is traveling within the area daily. All of our sales positions are structured heavily with the incentive of commissions. If you set high expectations of yourself, there will be no doubt you will reap the rewards.
Production: Production personnel include computer graphic designers, pressmen, and general technical support personnel who require a variety of computer skills or the ability to be taught. Attention to detail is an important component, as quality is job number one every day. With the media industry becoming more heavily reliant on digital technology, this could be a place for you if the technical world excites you.
Clerical support associates: These positions require understanding of a variety of business office tools with a heavy emphasis on accountability and customer etiquette. Obviously word processing and dealing with spreadsheets also play a role. If projecting a professional appearance and a responsible behavior are key to your philosophy, then we may have a place for you.
Journalist: Journalism is a wonderful profession that does require skill and a good command of the English language. 95% of our news department staffs have a college degree with over 80% majoring in journalism (print or broadcast). There is nothing quite like the written or spoken word that helps inform the people of issues, actions, and developments which in turn help us all be informed to make decisions in everyday life. If you have the skill and passion to make an impact on the community, you should give us a call.
Distribution / Packaging: A variety of jobs ranging from part time to full time span the components of delivering our printed products. Motor route carriers must have reliable automobiles who have the morning's available Monday and Wednesday — Saturday. Packaging personnel is an entry level position, though a great place to learn a responsible work ethic that will boost your experience to accept more technical jobs.
Whether your just getting started in the workforce, wanting to supplement your income or just wanting a job to keep you busy with some extra spending income, our distribution / package department could be a fit.
This family owned company is always looking for quality employees to fit into a variety of positions. If you have an interest, we welcome you to contact our Corporate offices (attention personnel) located at 1618 E. 9th St./P.O. Box 729, Hopkinsville, KY 44240, Work phone:(270)886-4444, Fax: (270)887-3222, E-mail for the personnel office: sellis@kentuckynewera.com.
Our web sites include: www.kentuckynewera.com, www.theeaglepost.us, www.timesleader.net, www.fortcampbellcourier.com, www.dawsonspringsprogress.com and www.journalenterprise.com
The Kentucky New Era is an equal opportunity employer.